Kalm Clothing will be hosting a special pop up shop event on August 9th at the Ferris Wheel in Flint, Michigan
FLINT, MI (July 25th, 2019) Michigan native and NBA All Star Draymond Green, along with his partners at 100K Ventures, announced today their inaugural partnership in Flint with entrepreneur Kiara Tyler to launch her high-end, unisex street wear brand Kalm Clothing. To celebrate the collaboration, 100K Ventures and Kalm Clothing will be hosting the line's first physical pop up shop on August 9th at the Ferris Wheel in Flint, Michigan with a special guest Super Bowl Champion, fashion icon and 100K Ventures founding partner, Victor Cruz.
In 2014, Kiara Tyler moved back home to Flint and began making custom storage boxes for rare designer shoes. In 2016, as her reputation as a talented designer grew, Kiara channeled her creative ideas into fashion brands and released her first clothing line. To bring visibility to her new venture, Kiara sold her clothes out of the trunk of her car at trade shows and fairs. A shrewd user of social media, she successfully connected with many professional athletes, entertainers and fashion influencers to buy, wear, and market her clothing.
After 100K Ventures accelerator announced its launch in December with founding members such as Michael Strahan, Reshma Saujani, Christina Weiss Lurie, Frank Thomas and Meena Harris, the group received many requests from local entrepreneurs. Eventually, 100K Ventures was thrilled to choose Kiara and Kalm Clothing as their first investment.
"Being the first investment from 100K Ventures is a dream come true. I'm confident that with the help of my team, the support of the 100K ventures group, and the Flint community behind me Kalm Clothing will continue to grow into a top fashion line" said Founder of Kalm Clothing's Kiara Tyler.
Draymond Green knew immediately that Kiara Tyler and Kalm Clothing was the real deal: "All I had to hear was Kiara's personal story about her upbringing in Flint and I immediately recognized we found a diamond in the rough. Growing up in Michigan, I am especially inspired by Kiara, a true entrepreneur vying for an opportunity."
---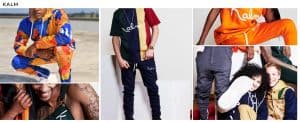 ---
After meeting with Kalm Clothing founder, Soledad O'Brien, award-winning producer and partner of 100K Ventures, stated "I am so excited to be a part of 100K Ventures. It's an amazing opportunity to support initiatives like the launch of Kiara's amazing unisex street wear brand Kalm Clothing. By investing in exciting entrepreneurial efforts like these I know 100K Ventures will help Flint grow and prosper. "
The August 9th pop up shop at the Flint's Ferris Wheel will make the first time Kalm Clothing will be sold offline, allowing patrons and partners of the brand to interact directly with Kiara and her clothing. The event will take place between 3PM – 9PM at the Ferris Wheel, 615 Saginaw St, Flint, Michigan.
About Kiara Tyler and Kalm Clothing
Born in Flint, Kiara Tyler has been described as "more Phil Knight than Phil Knight." Since launching a high-end streetwear line, Kalm Clothing, out of her Flint apartment in 2016, the brand has been worn by celebrities including Teyana Taylor, Joseph Simmons Jr., Angela Simmons and DeJ Loaf. After receiving funding and support from 100K Ventures, Kiara Tyler moved Kalm Clothing to the Flint Ferris Wheel which serves as its headquarters. Kalm Clothing can be found online at www.kalmclothing.online and on Instagram @Kalm.Clothing and is available to purchase at price points between $55-400.
About 100K Ventures
A group consisting of top business leaders, world class professional athletes, well respected journalists and leading entrepreneurs have joined together to launch a newly formed accelerator group called 100K Ventures that invests in early-stage companies in Flint. The group was created by 32 Ventures founder Robert Wolf, who partnered with Phil Hagerman, the founder of Skypoint Ventures, a Flint based real estate investment and venture firm. Other than Robert and Phil, 100K Ventures founding members include: Victor Cruz, Draymond Green, Meena Harris, Christina Weiss Lurie, Mayor Michael Nutter, Soledad O'Brien, Reshma Saujani, Michael Strahan, Jaime Taicher and Frank Thomas.
For Media Inquiries
32 Ventures
info@32Advisors.com